Magic Stickers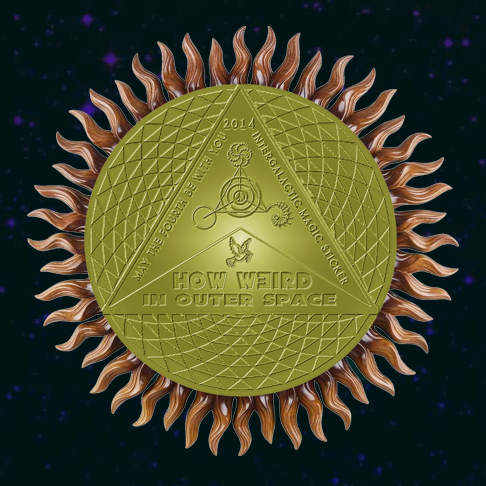 The MAGIC STICKER is your way to support the How Weird Street Faire and keep it going. And our way to give something really nice back this year. They come with hundreds of dollars of savings, and many free things!

The faire has become very expensive to produce and relies on you to make it happen. At $10, the faire is an incredible deal. And you could end up saving many times that amount through the many discounts and specials that make the stickers magical.
Plus you get a collectible Intergalactic Magic Sticker!
Get the Magic Stickers at the How Weird Street Faire entrances, while supplies last.
BENEFITS INCLUDE:
You help to keep the faire going and show your support
How Weird bars
$1 off beer, wine, and sake.
Peace Chain
Free sticker.
The Conlin Company
Free Utopia Goodie Bag, including bag, pen, stickers, and flyer.
Coco Loco
Free blindfolded Magic Sticker grab bag.
Herbert's Lemonade
Free samples.
Cajun Queen
Free hug with purchase.
Share International
Free UFO poster.
Subverse Industries
$5 off purchases + Free leather bracelet for the first 20 people.
Ma's Trading
Free sunglasses pouch with purchase.
MASK
$5 off any mask.
Tinkertart
10% off peurchases of $25 or more.
InVisions by Crystal Tara
Buy any 2 items and get 10% off.
Latch, SO, and HIPP Chiropractic
Free pics with giant spine emailed to participants.
The Divine Gypsy
Buy 3 or more, get 10% off.
Sefirah Fierce
$10 off any purchase, and $20 off any purchase of $200 or more.
Noralina Freedom Designs
5% off any item over $100, 10% if wearing Space-Themed Attire.
Estilo Clothing Company
Free mix CD with purchase $50 or more.
Alejandros Trade
Free handwoven cotton friendship bracelet with $30 purchase.
Good Life Roots
Free surprise gift with $20 purchase.
Aya Papaya
10% off purchases of $100 of more.
Kraken Whip
$5 off on every $50 purchase.
Jedzebel
Buy one vintage silk dress or skirt and get 2nd one 50% off.
Ms. Be / Soul Crafts
10% off purchases of $50 or more.
Remastered Virgins
Free stone with purchase.
Snowregion Gift Shop
10% off second purchase.
Craftianistas
Buy two items get the third free or free wire ring with purchase of $10.
Renewal by Andersen of SF
Lollipops and free estimate plus 15% off your entire order.
Korrupt Label
Two free patches with purchase of any t-shirt worth $28 dollars or more.
Kraken Whip
$5 off on every $50 purchase.
Holistic Hooping
Buy 2 hoops get 3rd half price OR 10% off any LED or Fire Hoop.
Gneiss Wood
10% off purchase plus an extra special surprise.
Box Industries
Three t-shirts for $50 special.
Cobo Creations
15% off purchase.
SF BBQ
Free beverage with purchase of any 2 items.
The Divine Gypsy
Buy 3 or more, get 10% off.
Psychic Readings by Lisa Miller
One free question.
Dancing Wings
20% off your 2nd pair of wings.
House of Kava
Free shot of kava with any smoothie or double kava.
Wacky Whistle
Get 3 whistles for $12 or 5 for $20.
Leather cuffs by Bar Mandalevy
Buy two leather cuffs and get another one half off.
Bangle Booj
Buy 2 and get a 3rd half price.
Electrofinds
Free stickers and special sale items.
Coboo Creations
Get 10% off purchase. Do a "weird and kind" act and get 15% off.
Fat Freddy's Creations
15% off purchase.
Post Street Creamery
Free weird milk chocolate chunk toppings.
Sweet Delights
Free fries or garlic fries with any purchase.
Z&E Slabs
Light spankings upon request.
Dreamtime
Lots of special magic discounts.
Kayo Anime Clothing
10% off purchase.
Hipster Belts
Sticker grab bag plus 5% to 25% off purchase.
How Ya Bean
$1 off one drink or buy 2 get 1 free.
Cold Steel America
Cold Steel will pay the sales tax.
Mr. Nice
$10 special on hot dog, fries, and a drink.
Thai Stick
Buy 5 chicken sticks get free garlic fries.
Bicol Bicol
$1 off beverage with the purchase of combo mix.
Body Painting by Cassandra Love Lambert
$10 off two paintings.
Ultra Crepes
A secret magic sticker, plus a tip of the day.
After Party at Harlot - 46 Minna Street
$3 off admission.
After Party at Brick & Mortar – 1710 Mission Street
$3 off admission.
After Party at the Stud Bar – 399 9th Street
$2 off admission.
And more!
Check back for more specials.