Marching Bands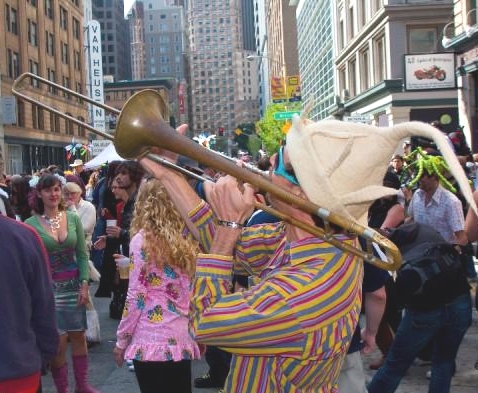 The Marching Band Stage is next to the center intersection, on Howard Street at 2nd Street. There will be music and dance performances throughout the day, as well as parades starting from the stage.
There will be a special dance flash mob at 4pm presented by National Dance Week. Come at 3:45pm to learn the dance from acclaimed dance instructor Barry Youngblood.
For this year's theme of Weirdi Gras, there will be 5 marching bands at the faire, including Blue Bone Express, Loyd Family Players, North Beach Brass Band, TrashKan Marchink Band, and Fanfare Zambaleta.
MARCHING BAND STAGE SCHEDULE

12:30 – Clowns Not Bombs
1:00 – Shovelman
2:00 – Parade begins down 2nd Street with TrashKan Marchink Band
2:10 – Fanfare Zambaleta
3:00 – Parade begins down Howard Street with Fanfare Zambaleta
3:10 – North Beach Brass Band
3:30 – Sufi dance performance with Kristin Sauge from Ballet Afasaneh
3:45 – Flash Mob instruction with Barry Youngblood
4:00 – Flash Mob Dance
4:15 – GRAND PARADE begins down 2nd Street with Blue Bone Express
4:20 – North Beach Brass Band
5:30 – Blue Bone Express
6:00 – Mermaid Parade begins down Howard Street
6:10 – Loyd Family Players
THE WEIRDI GRAS MARCHING BANDS
Blue Bone Express
A five-piece brass band that plays traditional Dixieland and New Orleans-style jazz, mixed with bop and blues. Their signature sousaphone and rollicking piano sounds keep the party hopping with infectious 2nd line and shuffle rhythms of traditional New Orleans parades. Named "the coolest jazz brass band in Northern California" by the San Francisco Chronicle. Blue Bone Express is from Oakland.
Loyd Family Players
A non-traditional band combining elements of samba, hip-hop, funk, heavy metal, dancehall, and reggae. They have a reputation as one of California's most raucous and jubilant party bands, with "the Bay Area's fiercest female percussion section," according to the SF Guardian. They lay down a real heavy groove with a thick mix of rhythms from all over the world. The Loyd Family Players are from Oakland.
North Beach Brass Band
Both a traditional brass band, and an electrified post-bebop funk/jazz band. The quintet of sax, trumpet, tuba, drums, and guitar covers a wide array of genres, especially funky New Orleans style jazz. North Beach Brass Band is from San Francisco.
Fanfare Zambaleta
A Balkan brass band based in the Bay Area. They play Romani, Serbian, Macedonian, and Greek brass band music with passion and dedication as students of the great Balkan brass bands, past and present. Fanfare Zambaleta's music is a potent contrast of wild improvisation with meticulous ensemble coordination, buoyed by powerful bass lines paired with energetic drumming and featuring jubilant and soulful vocals. The music incorporates mixed meters, close harmonies, and dramatic improvised solos.
TrashKan Marchink Band
A hybridized electro marching band from the Klown Korps. Straight outta the junkyard, they are a marching band like no other. Treat your eyes and ears to a splendid mix of sexy spectacle and bombastic boom. They are brandishers of metallurgically enhanced thumpmakers, bumpgrinders and wiggleworkers, purveyors of the ultimate in klassified klown-fi super-rhythms, tooters of tootable tomfoolerizers, propagators of bootywobble and general gyrational gesticulations, and perpetual third placers in the world of competitive audio antics. Plus they have one helluva yummy drill and flag team. The TrashKan Marchink Band is from San Francisco.
 National Dance Week Flash Mob
National Dance Week is presenting a special flash mob led by Barry Youngblood. Barry is a highly acclaimed dancer, instructor, and choreographer from Los Angeles. He has worked with famous artists, choreographed major performances and music videos, and performed for the Queen of England as well as with Kid Rock. He was also a featured dancer in the movie "Bringing Down the Houze" with Steve Martin and Queen Latifa. Come at 3:45pm to learn the dance, and watch a video of the dance here.
Mermaid Parade with the Stylisms Krewe
Stylisms poses the question, "How would Mermaids parade?" Very Slowly? A little rolly? Crawling? Bouncing? Falling? Come sea how weird it gets. Or feel free to join in the fun. The Mermaid Parade starts at 6pm at the Marching Band Stage next to the center intersection of Howard & 2nd Streets. All types, styles, and sizes of Mermaids are welcome, with the only rule being:  You MUST be a merperson, or other Mythic Sea Creature. Portable musical instruments encouraged, such as ukeleles, flutes, guitars, tambourines, horns, kazoos, or whatever you've got. Keep it splashy!
Shovelman
Shovelman is a junkyard beatnik, a shovel guitar wielding surrealist folk superhero. Armed with a collection of pawnshop effects pedals and an old barn-shovel turned slide-guitar, Shovelman plays ol' fashioned folktronica-grooves looped straight out of the ground. The sounds of Mississippi deltablues from the electro-psychedelic future, collide with the antiquated rubble of lyrical one-man-band hoboetry. LA Weekly says, "Shovelman has forged a perfect merger of the past and the present with his bluesy folktronic sound."
Sufi Dance Performance
Dance can be a spiritual experience. There are deep rooted traditions in Sufism that explore the mystical aspects of connecting with the divine through the art of whirling or turning. Through the turning, the dancer connects with the divine and reaches an ecstatic trance. Kristin Sauge from Ballet Afasaneh will be joining us at How Weird, sharing her art of Sufi Turning. This ancient tradition meets a contemporary interpretation and yet retrains the legacy of the ancient art of Turning.