Art Alley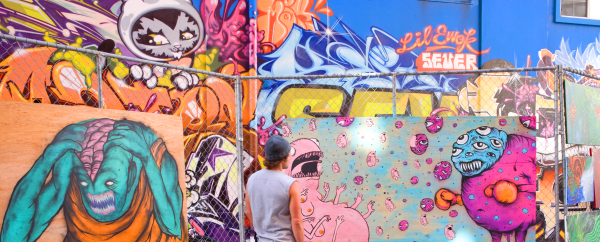 Art Alley is on Minna Street between 2nd Street and New Montgomery.
Here you will find live and exhibited art.
Art Alley will feature many artists and their artworks, including a number of live painters. Plus the ever-popular AnyBodyCanPaint Art Wall for anyone to paint just how weird and wonderful this world is.
This year's Art Alley is curated by ArtIsMobilUs, featuring their art bus.
ART ALLEY 2013 ARTISTS:
Brittany Gipson
Sean Murdock
Terbo Ted
Darren Mink
Sean Dietrich
Vince Gordon
Doug Rhodes
Brad Bernhardt
Jessica Perlstein
Revo Debois
Jack Eastgate
Jeffery Henry
Locust
Ryan B. Curtis
Randall Robers
Max Ehrman
and more!
ArtIsMobilUs Exhibitions:
"Three Women Three Visions"
Amanda Sage
Lisa Pisa
Lisa Alonzo
Plus small works by:
Sean Murdock
Richard Felix
Outside Mural Gallery:
B-Global Mural
D-Young-V
Body and Face Painting:
Very Fairy Body Arts
Alchemy Art Collective: Body Artists
Plus music by Noahaccordian and Company.
ArtIsMobilUs is a non-profit mobile public art gallery and roving arts incubator bringing art to people everywhere, while providing a platform for exhibition, collaboration, creative interactivity, and arts education. They were the first mobile art incubator in the country.