Magic Beads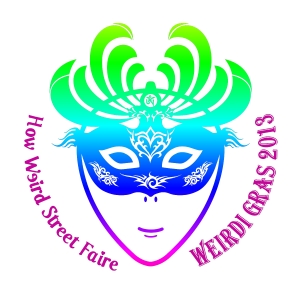 The MAGIC BEADS are your way to support the How Weird Street Faire and keep it going. And our way to give something really nice back this year. That's right, instead of stickers this year there will be cool beads. They come with hundreds of dollars of savings, and many free things!

The faire has become very expensive to produce and relies on you to make it happen. At $10, the faire is an incredible deal. And you could end up saving many times that amount through the many discounts and specials that make the beads magical.
Plus you get a collectible Weirdi Gras beaded necklace!
Get the Magic Beads at the How Weird Street Faire entrances, while supplies last.
.
BENEFITS INCLUDE:
You help to keep the faire going and show your support!
$1 off beer, wine, and sake at the faire bars.
Peace Chain – Free peace stamps.
Sefirah Fierce – $10 off any one item.
Live Wire – Free EL badge necklace.
Body Graphics – 50% off all packaged tattoos.
DreamTime - Free t-shirt or sarong with purchase.
Opal Moon – $10 off any one item.
Remastered Virgins - Free stone or crystal with every purchase.
Kayo Anime Clothing – $20 special offer items.
Crystal Tara / InVisions – Buy any 2 items and get 10% off.
Holistic Hooping – Free 3 min demo, $3 off any hoop, or buy 3 get one free.
Miss Be – 10% off any purchase of $150.
Flow Toys – Free USB cable or wall adaptor.
Dancing Fairy Productions - 10% off any bead holder.
Bliss Bus Clothing - $10 off any purchase over $50.
Elephant Tails - 10% off every $50 purchase.
Korrupt Label - 10% off purchases of $45 or more.
KrakenWhip - $5 off for every $50 spent.
Griffin Wings - Discounts on selected items.
Weird Coast - $20 per shirt or 2 for $35 or 3 for $45.
Coco Loco - 10% off $100 purchase or more.
StumpTown Kilts - $20 off each kilt plus 2 free pockets.
Northstar Fur Co. - Buy one get half off second purchase.
Anahata Designs - 11% off purchases.
Lovebian Designs - gifts with purchase over $20 and a free hug!
ElectroFur - 10% off any glowing ElectroFur item.
Minerva's Antennae - 10% off purchase of 3 items or more.
Onanya - $10 off any 2 items.
Divine Gypsy - 10% off 2 or more items.
JUSTA (Just Designs) - $5 off 2nd textile clothing item.
Burner Prep - $5 off Furry Hats or 10% off other items.
Snow Region Gifts - $5 off every $50 spent.
Phoenix Rising - $10 off any one item.
Mask - Any mask for $5.
Ma's Trading - Sunglasses $10 each, hats $20 each, and more.
Cafe Mugshot - Free cookie with any purchase.
Happy High Herbs – Free bag with $10 purchase.
Kiss My Licorice - Buy 6 and get the 7th free.
Ultra Crepes – Free water or soda with crepe purchase.
How Ya Bean - $1 off drinks or buy 3 get one free.
Mr. Nice Food Truck - $1 off any Three Twins organic ice cream.
San Francisco BBQ - Free water or soda with any 2 items.
House of Kava - Free shot of Kava with any purchase.
Magic design by Kourosh Gorji and Kuriosity Studio.