The Magic Pass is your ticket to the world of weird.

  Take advantage of the best deal on the planet!
Tremendous savings, incredible discounts, fun activities, and free goodies!
Plus you get the How Weird Street Faire to continue enjoying!
ENJOY ALL THAT THE FAIRE HAS TO OFFER!
You can get presale Magic Passes HERE or on Eventbrite…
https://www.eventbrite.com/e/how-weird-2018-tickets-42881590993
.

2018 MAGIC BENEFITS:
You help to keep the faire going and show your support!
How Weird Info Booth
Free How Weird stickers.
InVisions
Free bindi pack, let your 3rd eye shine.
Stoopid Shades
Free sticker or paint-splatter application to item of your choice.
Elisa Gonsalves Designs
Take an instant picture with hats from the hat bar.
Reprezent Clothing
Free stickers plus $5 bandanas or bootyshorts with $30 purchase.
Light Sound Dimension
Free sticker and $5 off the purchase of two t-shirts.
Warrior Within Designs
Free big wing bumper sticker while supplies last.
LaserTrees
Free limited edition hardwood keychain.
Psychic Readings
One free question.
Stay Up Movement
Free Brazilian treat with purchase of sunglasses.
Savourie Streets
Free mini fudge brownie with purchase.
Dreamtime Creations
Free hugs with disco moves plus 10% off and gifts with purchase.
Tiny Hands Studios
Free necklace for the first 15 customers and 10% off any item.
Warrior Within Designs
Free wing bumper stickers for first 50 customers.
Sublime Designs (formerly Sublime Kreations)
Free photo opportunity with chance to win fur or scarves.
Alejndros Trade
Free hand woven friendship bracelets with $20 purchase.
Tres Truck
Free tortilla chips and salsa with $10 purchase.
Griffin Wings
Special gift for 1st puchase of $45.
Kayo Anime Clothing
Special free item for with $50 purchase.
Noralina Freedom Designs
Free seed of life brass ring with $100 purchase.
ARLo Glass Creation
23.7% off anything for the magically inclined.
Octopunx
Chaos Discount Die Roll: Odd= 10%, Even = 15%, Cthulu= 20%.
BoHo Lounge
20% off any clothing item.
Divine Hoop Dance
Get discounts with purchase of hula hoop.
Rebellewear
Free flower of life pendant with $60 purchase.
Conscious Convergence
Free hummingbird necklace with $100 purchase.
Radhas Love Designs
15% off your purchase of $100 or more.
Shaman Electro Wear USA
10% off one item over $100 or $10 off item over $40.
Hipstirr
10% discount on purchase over $75, excluding sale items.
Eternal Mode
10% off with $200 purchase.
Gangchen Gifts
10% off purchase.
Divine Gypsy
10% off 3 or more beyootiful treasures.
Festival Universe
10% off any item, except sale items.
Tres Truck
Free tortilla chips and salsa with $10 purchase.
MASK
$5 off any mask.
Ellis Fashion
$5 off any item.
Drew Shanklin / Ha&Anh Design
5% off purchase, and a collective cheer upon sight.
Kinetic Couture
Roll die for a discount on any purchase. Spend $80 roll two dice.
Bombzies BBQ
$1 off any meal purchase.
Bohemian Gifts
Lovely discounts.
KritterKlips
Purchase three ears for only $60.


ON ART ALLEY
ENGRAFFT
Special edition sticker.
Numbers Of Wonder
Free initials reading.
Tilly's Tiny Treasures
Free stickers plus magic bubbles with purchase.
Viridis Designs
Free shiatsu with purchase.
Youphoriclothing
Free metallic tattoo with purchase, and 10% off multiple items.
Viridis designs
Free shiatsu with purchase.
whoop!
Free gift with purchase.
Bob The Patchman
Fun photo opportunities plus one patch for $1.
Rivetted Leather
Free custom fitting appointments and half off second belt.
C-Love
Bring a buddy get $10 off.
The Art of Ishka Lha
Subscribe and enter to win a free print.
Kava Lounge SF
Buy 2 and get the third free.
Capital Alchemy
Buy two, get one free.
And much more!
.
.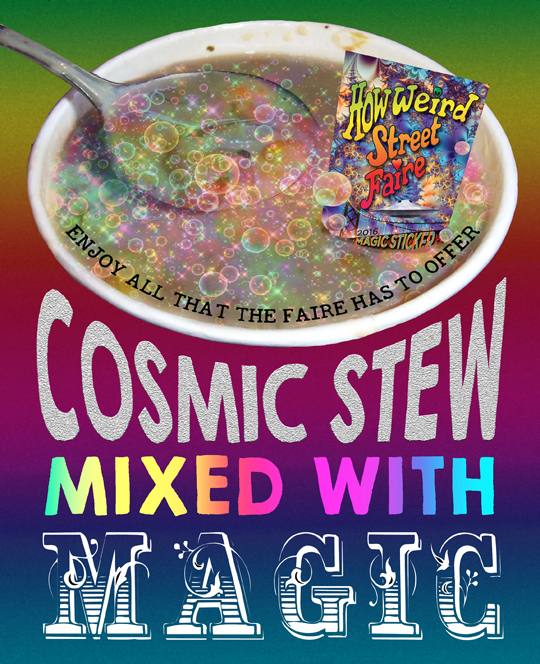 .