The Magic Sticker is your way to support How Weird and keep it going.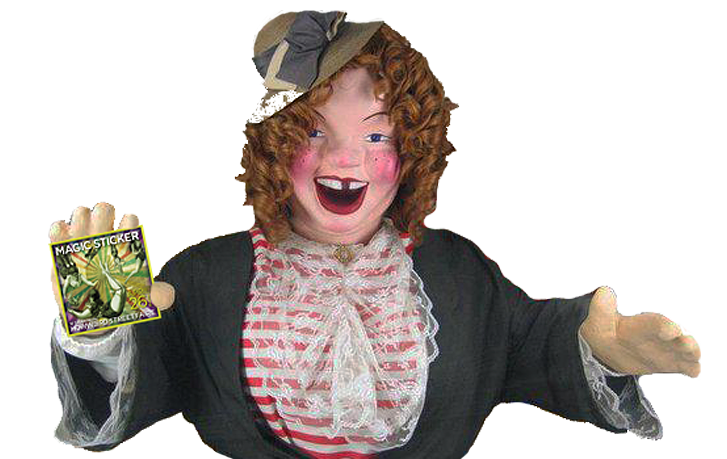 Take advantage of the best deal on the planet!
Tremendous savings, incredible discounts, fun activities, and free goodies!
Plus you get the How Weird Street Faire to continue enjoying!

The faire has become very expensive to produce and relies on your contributions.
At $20, the faire is an incredible deal. Plus you could end up saving many times that amount
through the many discounts and specials that make the stickers magical.
And you get a collectible Magic Sticker that makes you look great!
.


BENEFITS INCLUDE:
You help to keep the faire going and show your support!
The How Weird T-Shirt
$5 off the How Weird t-shirts at the Info Booth.
Psychic Readings by Lisa Miller
The answer to one question free.
Weird Coast
Free new curse word. Practice on Weird Coast, or person of equal or lesser value.
Dreamtime
Free sticker plus bargain bin item of your choice with any purchase.
Thuggchains
Spin a magic craps table for a discount or free things.
Stoopid Shades
Free sticker or free paint-splatter application to virtually any item.
Tyger Manufacturing
Giveaways, raffles, and photos with cardboard cutouts.
Gypsy Boo Love
Free crystal with every purchase.
Kinetic Couture
Free tassle plus 10-15% discounts.
Sweet Delights
Free fries or garlic fries with any order.
Remastered Virgins
Free crystal or geode with purchase.
Electrofinds
Free stickers plus 10% off all purchases.
Drop City Hearrt-Ware
Free laminated photo booth souvenir plus 5% off any item.
Elfenworks Foundation
Free gift when you download our free Breathing Butterfly app.
Goodliferoots
Free gift and discount prices.
Gina Heart Lifestyle and the Emporium of Awesome
Free flash tattoo with purchase of crazy pants.
We The Minis
Free Meme Face cookie with any purchase.
Alejandros Trade
Free woven friendship bracelet.
Kushgear
Magic high five.
Willowroot Wands
A pewter Celtic Pictic talisman.
Glowees
Free Day of the Dead patch plus 10% off any purchase.
RMAC Properties
Free sample of sea salt from the Sea of Cortez.
The Strudel Guys
Complimentary portion of strudel.
Birdmanray Images
Free postcard or 50% off package of 12.
TOOTKOO
50% off any item.
10th Muse
50% off all swimwear.
Presh
50% discount on grab bag items.
BoHo Lounge
20% off entire purchase.
Ishka Nexus
20% off purchase of $100 or more.
LAuruS Myth
20% off purchase of $100 or more.
Coboo Creations
Play "Rock, Paper, Scissors" for 10% or 20% off.
Sensory Revolution
Free stickers plus body salts, crystal, or palo santo with purchase.
CRAFTionistas
Free wire ring with $20 purchase plus 10% off $40 purchase.
Noralina Freedom Designs
Free Seed of Life ring with any purchase over $100.
Reprezent Clothing
Free limited edition pair of socks with orders of $20 or more.
The Muses Offering
Free sticker with purchase + temporary tattoo with purchase over $35.
Geometrix
10% off any purchase plus another 15% off for correct trivia answers.
InVisions
Buy any 2 Items and get 10% off.
Gneiss Wood
10% discount on purchases of 3 or more.
Furrocious
$10 off purchase of $100  and $15 off purchase of $300 or more.
WoodStalk
$5 off on all items plus necklaces for kids.
Kritterklips
$5 off clip on ear accessories.
MASK
$5.00 off any mask.
Knic
$5 discount on all items plus bamboo pendant necklace for kids.
animalnooky
$5 off any original animalnooky painting.
thndur1
$5 off any record purchase.
Bohemian Chic
Buy two necklaces get third for $1. Or buy 3 for $15.
Stellatrix
10% off of everything.
KrakenWhip
10% off purchases of $75 or more.
Savage People
A secret goodie bag for $10.
Jumbie Art
Post weird picture in 3D glasses, save money, and keep the glasses.
Mandalevy Designs
Buy 2 bracelets get the 3rd half price.
Holistic Hooping
But 2 hoops, get the 3rd half off.
Ultra Crepes
Buy any 3 crepes and get 1 sweet crepe free.
C-Love
2 C-Love FaDazzles for $30.
SoulCrafts
Free accessory or bargain box item with purchase of $80.
Mr. Nice
Hot Dog plus Ice Cream plus Soda/Water for $10
Dada Bar
$1 off After Party entrance plus $2 off drink specials.
How Weird bars
$1 off beer, wine, and sake.
and more!
.