The Magic Button is your way to support How Weird and keep it going.

  Take advantage of the best deal on the planet!
Tremendous savings, incredible discounts, fun activities, and free goodies!
Plus you get the How Weird Street Faire to continue enjoying!

The faire has become very expensive to produce and relies on your help.
At $20, the faire is an incredible deal. Plus you could save many times that amount
through the many discounts and specials that make the buttons magical.
And you get a collectible Magic Button that makes you look great!
ENJOY ALL THAT THE FAIRE HAS TO OFFER!
The presale Magic Buttons are no longer available.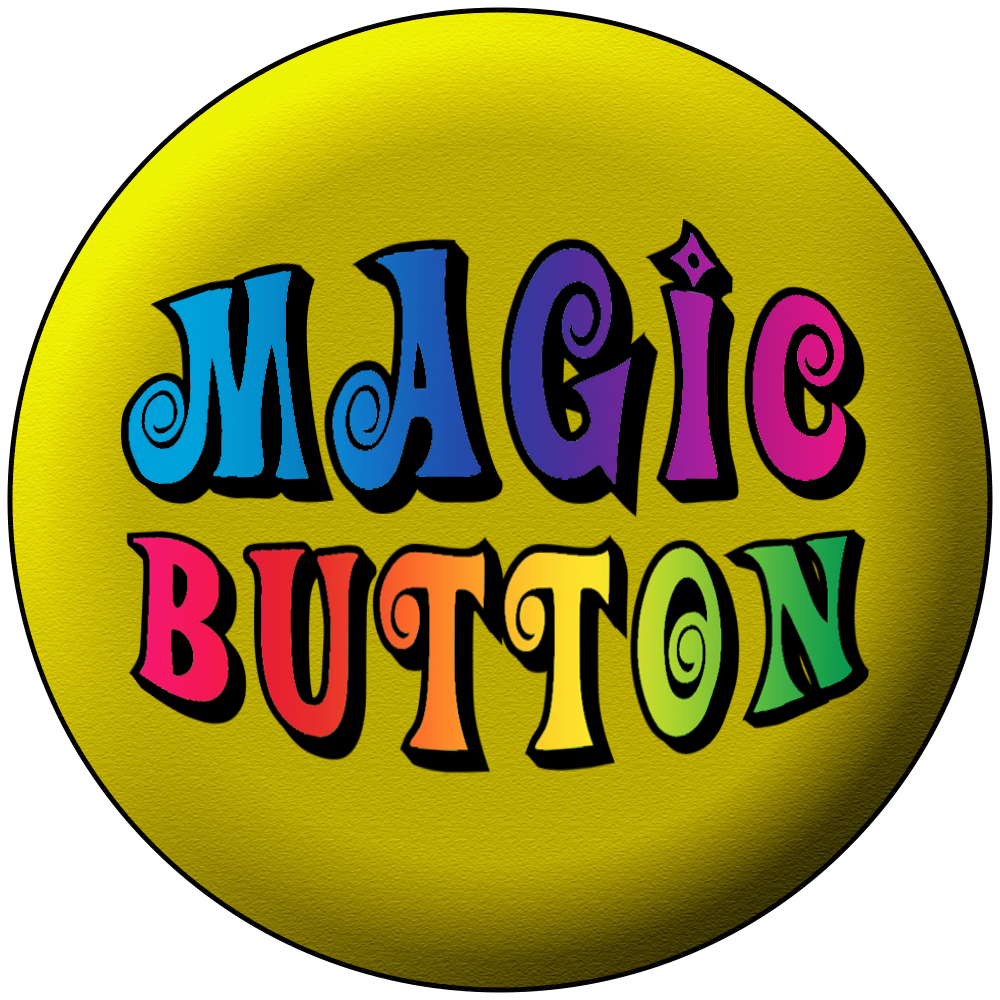 BENEFITS INCLUDE:
You help to keep the faire going and show your support!
You look great in a collectible metal pin!
The How Weird T-Shirt
$5 off the How Weird t-shirts at the Info Booth.
The How Weird bars
$2 off all alcoholic drinks.
PeaceFits
Dance-a-thon interactive discount adventure.
InVisions
Free weird and wonderful bindi pack, let your 3rd eye shine.
The West Bay
Free stickers, free temporary tattoos, and free glittering.
CEG Art
Free original mandala sticker.
Berlinxsf
Get a free sticker.
Stoopid Shades
Free neon paint splatter application to whatever item you want.
Rainbow Bliss Botanicals
Free dose of sexy sauce and mist with every purchase.
Numbers Of Wonder Numerology
Learn your 4th core number, your heart's desire.
Suntory All-Free
Play dart game for glass jewelry and stone prizes.
Brittney Sundquist
Free art stickers.
Tibet Horizon
Special talks on mind training.
Psychic Readings
One free question.
SPARC
Free snow cones to people with the Magic Button.
Lions In The Zoo
Free stickers plus discounts on patches.
Renegade Outfit
Draw 2 cards from the Renegade deck for prizes.
Flower Power
Sign up for free goodies from their dispensary.
Uniglitter
Spin the Unicorn to win prizes.
Elisa Gonsalves Designs
Take an instant picture with hats from the hat bar.
Light Sound Dimension
Free very random sticker plus $5 off 2 screenprinted items.
Frozen Kuhsterd
Two free toppings with any scoop or $1 off any sundae.
Savourie Streets
Free chocolate chip cookie with purchase.
Remastered Virgins
Free hand-mined crystal or geode with any purchase.
Daniel Lippincott
Free CD of original music to compliment each artwork purchased.
The Dark Room Truck
Photo contest for people with the Magic Button.
Noralina Freedom Designs
Free seed of life brass earring with $100 purchase.
Ishka Nexus
Free hologram with purchase of $50 or more.
Dreamtime Creations
Cotton bandana free with purchase of $50 or more plus a kiss.
COOL!NARIA
Free water plus 1 free taco with purchase of 5.
Onaru
10% off plus free earring or bracelet with purchases over $50.
Reprezent Clothing
Free stickers plus buy 2 shirts and get $10 off.
SAVA
Free preroll code plus 10% off purchase.
Sublime Kreations
Free colorful cotton bandana with purchase of $20 or more.
thndur1 Artz
Free hand painted record with purchase of $20.
Subverse
Free pair of earrings for first 5 customers with purchase over $100.
Goodliferoots
Free gift with purchase plus 10% off certain items.
Gina Heart Lifestyle
Free flash tattoo with purchase of leggings.
Presh
50% off on select items.
Bunny's Bazaar
Raffle ticket for prize.
Bob the Patch Man
A big smile and courteous service.
Korrupt Label
Free screen printed patch with shirt purchase.
Warrior Within Designs
Free glitter bombs to first 50 people with a Magic Button.
Craftionostas
Buy 3 items get the 4th free.
Freeborn Designs
$25 off the purchase of a jacket.
Bohemian Gifts
20% off tapestries, crystal pendants, dreamcatchers, and more.
Buffoonery Factory
$20 off any realistic grizzly bear coat.
BoHo Lounge
20% off any clothing item plus 10% off any item of jewelry.
Radiate Light
20% off colorful print harem pants.
The High Thai
10-20% discount depending on what you spend.
Funky Town
Free print with $30 purchase or free glass pipe with $60 purchase.
Hipstirr
15% discount on all non-sale designs over $50.
DDRA Steampunk
Discount die roll for 5-15% off purchase.
SOULCRAFTS
10% off purchase plus a sweet love spank.
Coboo Creations
Say the weirdest thing to happen to you and get 10% off.
Zada
$10 off every purchase.
Onaru
10% off plus free earrings or bracelet with $50 purchase.
C-Love
Save $10 when getting weird with a buddy.
whoop!
10% off purchases.
Ruru Juice
10% off any smoothie.
Robot-Six by Neal's CNC
10% off CNC cutting services, good through 2017.
The Divine Gypsy
10% off purchase of 2 or more treasures.
Kinetic Couture
Roll the dice and save money on purchase.
KrakenWhip
$5 off for every $50 spent.
MASK
$5 off any mask.
KritterKlips
$5 off as many ears you want.
Kinetic Couture
Roll the magic dice and take dollars off your purchase.
Makeup Your Mind
$1 off one face painting, $5 off couple face paintings.
Lower Park
Discounts on purchases.
And much, much more!
.
Here is a map of the vendors on Art Alley and Green Alley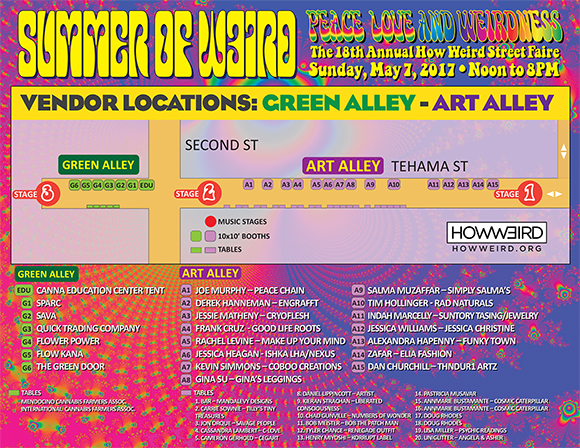 .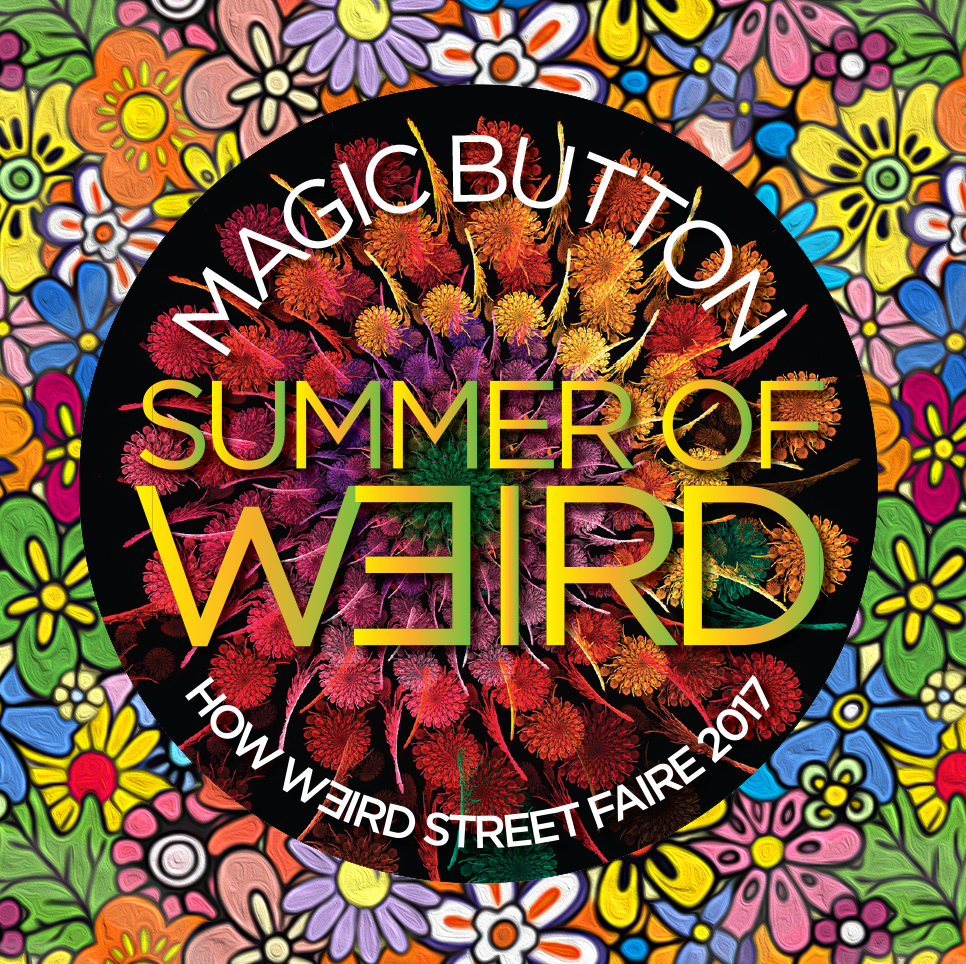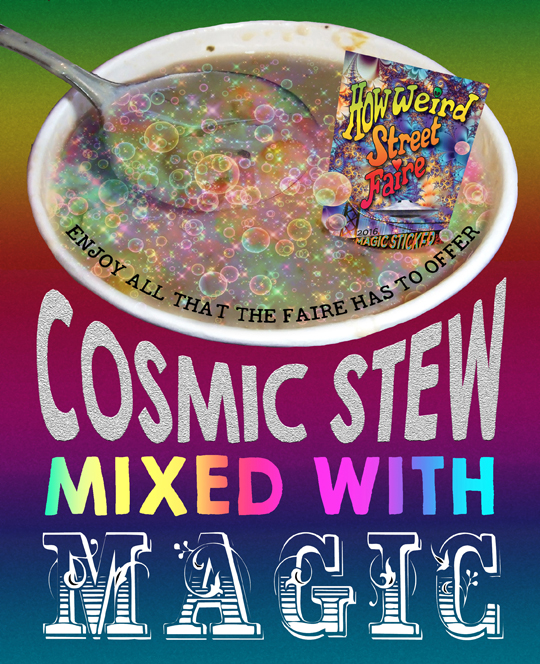 .