Take advantage of the best deal on the planet!
Tremendous savings, incredible discounts, fun activities, and free goodies!
Plus you get the How Weird Street Faire to continue enjoying!
ENJOY ALL THAT THE FAIRE HAS TO OFFER!
$20 at the faire or $15 in advance.
.

THE 2019 MAGIC BENEFITS:
You help to keep the faire going and show your support!
InVisions
Free bindi pack, to let your 3rd eye shine.

Psychic Readings
One free question with one free answer.
Stoopid Shades
Free paint splatter to clothing, item, or body part.
KAYO Anime Clothing
Free magical items in different sizes.
Zombie Movement
Free pinback button with any purchase.
Bohemian Gifts / Gifts Of Tara
Free prayer flag with purchase.
Ellia Fashion
Magic crystals.
Firekult
Show your unicorn.
Unusual Cards
Free tiny pin and/or cult membership card.
Buddhaful Designs
Magic discounts and free stickers.
Heavenly Her Creations / On The Lo Swimwear
Free crystal pendant, personalized reading, and discounts.
Warrior Within Designs
First 100 people receive a free psychedelic headband.
Octopunx / Citrus Atelier
Free pocket stone while supplies last.
Clairvoyant Clowns
Free sticker and 1/2 off 2 oracular consultations.
Astral Chrysalis Designs
Free gemstone with purchase and 2nd cuff 50% off.
Tibet Horizon
Magical prints on cotton.
anahata designs / infiniti now
2 for 1 Hella Sacred™ bandanas.
Five and Diamond
Free pair of sunglasses with $40 purchase.
Lower Park
25% off when you say "Magic Pass".
Youphoria Festivalwear
Design own headband or armband plus 10% off.
BoHo Lounge
20% off one clothing item.
Leather Elements
20% off leather goggles with $100 purchase.
The Divine Gypsy
15% off 3 or more jeweled treasures.
Isnerart
10% off plus some Amazonian snuff.
Pressing Buttons
Free pinback button with $10 purchase.
Hipstirr
10% off styles over $75 excluding sale items.
Griffin Wings
10% off all items from noon to 2pm.
Eternal Mode
10% off purchase of two items or more.
Gitana Gold
10% off 1 item or photo with hats.
Love Khaos
10% off all sequin jackets.
KritterKlips
$10 off 2 pairs of ears.
Ha & Anh Design
5% off and get a special Magic Pass Dance.
Reprezent Clothing
Raffle entry per puchase to win free outfit.
Sublime Designs
Tag yourself and be entered to win a sparkle beanie.
.
ON ART ALLEY
Chrome Monarchy
Free holographic butterfly pin.
Bob the Patchman
Free peace sticker and discounts with purchases.
Uniglitter
Free glitter gift with purchase.
Crystacular
Free Fairy's Tear or 3 stickers with $30 purchase.
Korrupt Label
Free printed patch with $40 purchase.
Savage People
Magic discount on products.
C-Love
Get bedazzled with your buddy $5 off.
.
FOOD TRUCKS
Kiss My Boba
Free sticker with purchase and 2nd drink topping.
COOL!NARIA
Free bottle of water with 3 tacos.
The Pop Nation
Free Popsicalace with purchase.
Savourie Streets Food Truck
Free mini cookie with purchase for first 300 people.
Sunrise Deli
$1 off any falafel wrap.
.
And many more!
Check back to see the updated specials.
.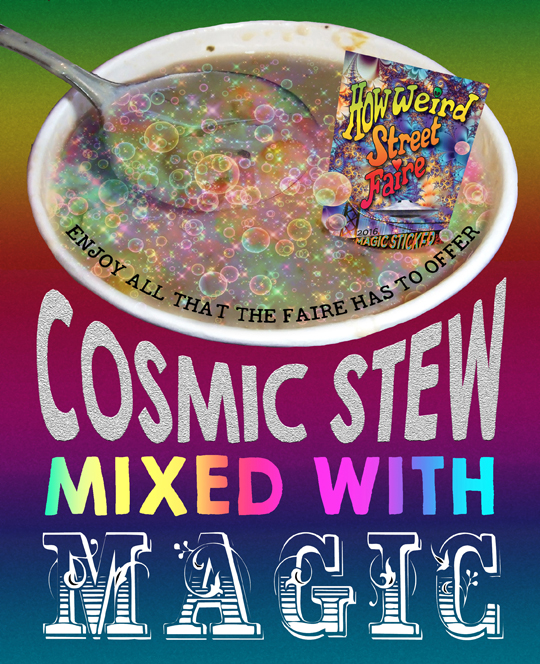 .