The World Peace Through Technology Organization presents

HOW WEIRD IN OUTER SPACE
SUNDAY MAY 4, 2014
Noon to 8pm
Downtown San Francisco, Earth, Sol, Milky Way
PEACE – THE FINAL FRONTIER
Thanks to everyone who came to How Weird, and showed the galaxy how a street faire should be! Much thanks to all the DJs, musicians, dancers, performers, artists, vendors, and faire participants. We couldn't have asked for a better start to the legendary San Francisco Bay Area festival season.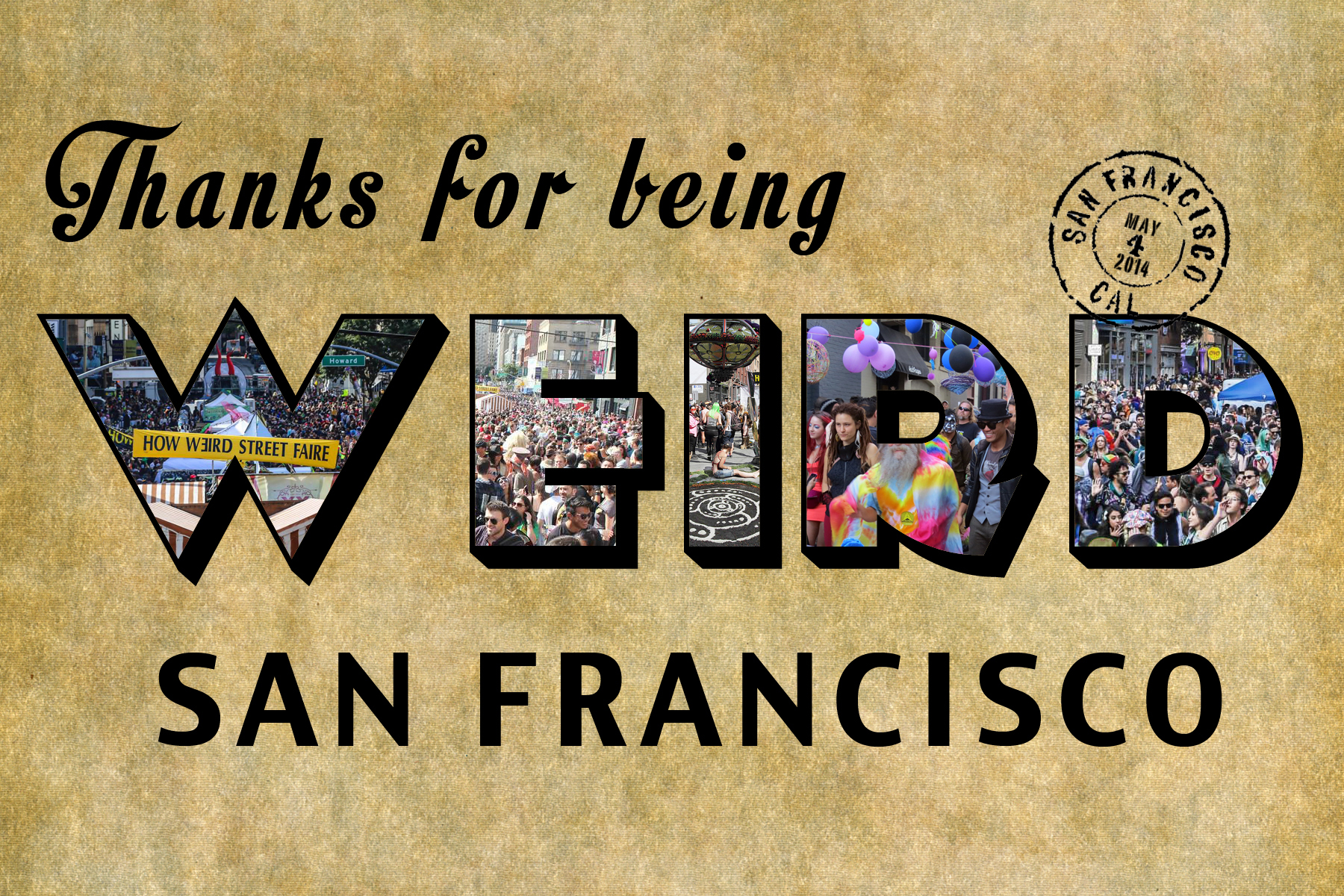 Here is a music video of How Weird 2014 from State of Light…
Use #hwsf
to talk about the How Weird Street Faire.
Keep informed of How Weird news and events, join the mailing list…
Sign up for the How Weird mailing list!
.
May the Fourth be with you!
On May the Fourth, the How Weird Street Faire, for the 15th time, filled the streets of SoMa with a celebration of peace and creativity unlike any other. The faire featured art, music, dancing, performances, technology exhibits, peace activities, unique vendors from around the world, and much more. Thanks to all who participated in the greatest street faire in the galaxy, and the start of the San Francisco festival season.
HOW WEIRD 2014 PROGRAM
There will program guides to the How Weird Street Faire, while supplies last.
You can also print out the program at home and bring it with you to the faire…
Click here for the Map and Introduction.
Click here for the Line-ups and Schedule.
MUSIC
The How Weird Street Faire is a world-class music festival, featuring the full range of electronic dance music styles. There will be 10 stages of great music, art, and sound systems from some of the best sound collectives on the planet.
How Weird 2014 will feature stages by Enchanted Forest, Muti Music, Symbiosis Gathering, Northern Nights, Opel, Opulent Temple, Urge Productions, Space Monkeys, Underground Nomads, Hookahdome, The Boomtown Revue, Pink Mammoth, SF House Music, Temple Nightclub, Party Babas, Red Marines Festival, Pulse SF, THINK YOU CAN DJ Game Show, SomaFM, and more!

DANCE
The How Weird Street Faire is once again participating in National Dance Week this year. As a part of the festivities, there will be a special National Dance Week flash mob at the Cosmic Dance Stage next to the center intersection.
ART
An expanded Art Alley will be in a new location this year, on Tehama Street off of 2nd Street. Come see live art, interactive art, local arts and crafts vendors, music, and even a game show! Be creative at the world famous Art Alley.

MAGIC STICKERS

This year, we have a special edition of the world famous Magic Sticker for only $10.
They come with hundreds of dollars of savings, many free things,
and even more magic!
.
The How Weird Street Faire is a project of the non-profit
World Peace Through Technology Organization