The 10th annual
How Weird Street Faire
Sunday May 10th
from Noon to 7pm
Centered at Howard and 2nd Sts.:
37° 47' 12.4" N. x 122° 23'53.7" W.
San Francisco, Earth
Ten blocks of art and celebration, and ten stages of music. Plus performances and colorful costumes, vendors from around the world, food and drinks, and much more!
The How Weird Street Faire is an experiment in creating peace, bringing together a wide range of eclectic styles and communities.
Come join the fun! All ages welcome.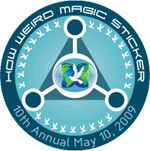 And in honor of our 10th anniversary, we're introducing...
THE MAGIC STICKER!
Only $10 donation, or $5 in costume!
When you enter the faire, you will have an opportunity to purchase a MAGIC STICKER!. The sticker gets discounts and specials throughout the faire: including $1 off each drink, discounts at vendors and local merchants, $2 off each after party, and most importantly you help keep the faire going. It's our way of thanking you for supporting us.
When the day ends, the celebration continues indoors with a variety of music styles represented during the day.
How Weird @ Night is from 7pm to 2am
So plan accordingly, and bring something warm to wear. The tall buildings in our new location take away sunlight later in the day.